October 31, 2011
* Translated letter sent with undeciphered Voynich manuscript
* Leading climate change skeptic releases Koch brothers study
* Ex-Reagan economist on idea that deregulation leads to jobs
* Herman Cain describes gesture that led to harassment charge
* Ex-soldier jailed for leaking Israeli assassination policy
* Developer of rotavirus vaccine requires personal guards
* Anonymous takes on Mexican Zetas black market drug cartel
* Google is taking its Street View mapping service indoors
* 9 of the 10 heaviest humans ever recorded are from the US
* I saw a family friend get married at Presidio Log Cabin

October 30, 2011
* Egyptians march on US Embassy in support of Occupy Oakland
* Google refused request to take down police brutality video
* Federal judge approves settlement for 68,000 black farmers
* Flood water from the Chao Phraya river in Bangkok is toxic
* Neuroimmunologists find bacteria link to multiple sclerosis
* Rangers twice within one strike of first World Series ring
* US launching drones into Somalia from Arba Minch, Ethiopia
* Christian prayer group plans to encircle London protesters
* Protesters seem more adult than politicians and plutocrats
* Clerics suppress report on bankers' greed to avoid tension
* October 24 "Responsible Citizen" report from Occupy London
* Pictures of Statue of Liberty under construction in Paris
* Foreclosure mill law firm homeless-themed halloween party
* Libertarian Peter Schiff converses with Occupy Wall Street
* Printed We are Wall Street rant from Chicago Board of Trade

October 28, 2011
* US firm acknowledges Syria using its web filtering devices
* Quotes from Michael Moore address in Oakland this afternoon
* Attorney says officials tricked Occupy Nashville protesters
* Occupy Wall Street raised $450,000 so far and spent $50,000
* Orange County city council: Occupy tents are form of speech
* Interstellar organic molecules may originate in young stars

October 27, 2011
* Govt could deny records existence under proposed FOIA rule
* OWS is not a protest, but a prototype of new way of living
* Delaware Attorney General sues big banks mortgage registry
* BofA CEO "incensed" people don't recognize how much good..
* The other occupation: how Wall Street occupies Washington
* Neoconservatives call for hearings on withdrawal of troops
* Former detective: NYPD plant drugs on people to meet quotas
* Alabama to replace illegal immigrant labor with chain gangs
* Google.org geothermal map shows 10x capacity of coal plants
* Director of Bay Area Outreach & Recreation Program resigns
* James O'Keefe "Project Veritas" tries to "entrap" Jay Rosen
* Woman interrupts, lectures Congressional "Super Committee"

October 25, 2011
* Tunisian moderate Islamist Ennahda party wins 40% plurality
* Bank of America gets backdoor bailout from Federal Reserve
* Former Goldman Sachs director to surrender to FBI tomorrow
* Oakland cops tear gas, rubber bullets combat health hazard
* Exploit differences between groups to obscure similarities
* Statistics used to decode late 18th century Copiale Cipher

October 24, 2011
* Nurses union protests arrests at Occupy Chicago medic tent

October 23, 2011
* Willie Nelson reads poem for protesters at Occupy Wall Street
* Anonymous takes down child porn web host, publishes user info
* We don't need a warrant, we're ICE: ACLU Tennessee files suit
* Tunisians elect 217 seat assembly that will draft constitution
* Moammar Khadafy was richest man in the world with $200 billion
* New study of Global Warming persuades the properly skeptical
* Koch foundation funded the Earth Surface Temperature project
* Occupy Marines bring reinforcements to Occupy protests in US
* Herman Cain transformed trade group into lobbying powerhouse
* Albert Pujols hits 3 home runs in game three of World Series

October 22, 2011
* End of Libyan civil war suggests US approach to regime change
* Senate Majority Leader opposes Keystone XL tar sands pipeline
* FBI has been using census data to map ethnic groups for years
* Jon Bon Jovi's "Soul Kitchen" restaurant is "pay what you can"
* Pepper-spraying NYPD cop Anthony Bologna loses vacation days
* Pete Seeger and Arlo Guthrie lead Occupy Wall Street in song

October 21, 2011
* Pete Seeger, 92, marching & singing with Occupy Wall Street
* How the austerity class has ruled Washington DC since 2009
* Republicans depict half of US tax payers as "free loaders"
* Rep. Cantor cancels Wharton School lecture at last minute
* Bachmann Commonwealth Club appearance draws no protesters

October 20, 2011
* Juan Cole explains why all US troops will leave Iraq by Dec 31
* Occupy Wall Street advertisement to run on national television
* Naomi Wolf arrested at OWS protest for violating imaginary law
* Support US constitutional amendment ending corporate personhood
* Twitter CEO Dick Costolo: we will protect users from government
* Ardnamurchan Viking boat burial site uncovered in West Scotland
* Dopamine-induced risk-seeking entrepeneurialism in UK/US/Canada
* Palin to headline annual victory dinner Nov 3rd at Disney World
* Bukowski response to removal of his book from Nijmegen library
* Evidence of organized American soccer in 15th century Scotland

October 17, 2011
* Occupy Wall Street has $300,000 account at Amalgamated Bank
* Marriage proposal via human microphone at Occupy Wall Street
* United States Marine Corps. Sgt. Shamar Thomas from New York
* Givat Hamatos first new East Jerusalem settlement since 1997
* 50th anniversary of "The Phantom Tollbooth" by Norton Juster

October 16, 2011
* Matt Taibbi suggests specific demands for Occupy Wall Street
* Cornell West of Princeton arrested on steps of Supreme Court
* California Medical Association for legalization of marijuana
* US candidate wants electric fence to kill illegal immigrants
* RIP Dennis Ritchie; Fathered Unix and C programming language

October 15, 2011
* Almost half of US households pay no federal income tax [2009]
* Support from around the world for Occupy Wall Street [photos]
* Ai Weiwei directs arrest-themed photo shoot at Rikers Island
* NY Times interview with Patti Smith includes her photography
* In 1968 Spalding Gray saw a performance of "Dionysus in 69"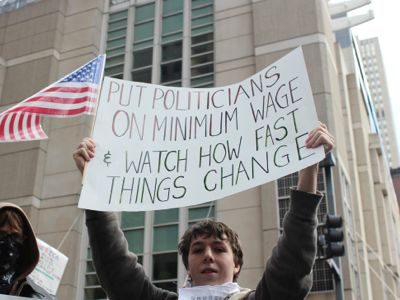 October 14, 2011
* Zuccotti Park owners delay "cleanup" after receiving calls
* OccupySF powers laptops & phones 24/7 with raised bicycle
* Time Magazine poll on Occupy Wall Street released Oct 13
* Kansas City Bishop indicted on child endangerment charge
* "World's most powerful artist" Ai Weiwei, BBC interview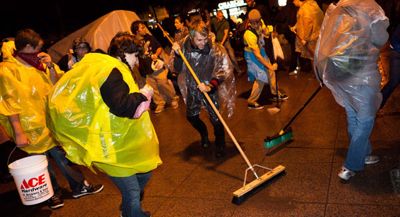 October 13, 2011
* FOIA request for secret interpretation of PATRIOT Act
* Canadian Liberal Democrats would repeal censorship law
* Registrar seeks to suspend domains without court order
* Yerinia pestis confirmed cause of medieval Black Plague
* BBC filmed future Baron Mayhew taking mescaline in 1955

October 12, 2011
* Bank CEO: Occupy Wall Street sentiments "understandable"
* Lessig advises OWS not to be defined by political party
* Pics of Occupy Wall Street Oct 12, Oct 10, Oct 8, Oct 5
* Arrest of George W. Bush in Canada would cause tension
* Obama blocked strike by 25,000 railroad workers Oct 7

October 11, 2011
* Wall Street protests valid without specific demands
* Tax-payers saved plutocracy with no strings attached
* Brown vetoes ban on searching phones without warrant
* Video of climb up world's tallest tree in California
* Hackers publish German government surveillance trojan

October 9, 2011
* DOJ Awlaki memo authorized assassination of citizen
* Savings of home owners used to prop up zombie banks
* Agent provocateur at Washington Air and Space Museum
* Curfew in parts of Cairo after protest by Christians
* Green Party adopts Pirate Party position on copyright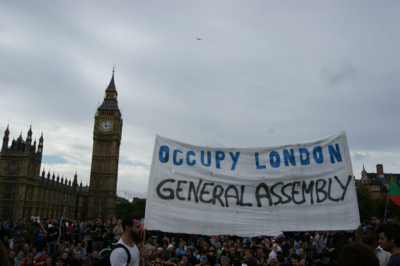 October 8, 2011

October 7, 2011
* Muslim mosaics resemble Jewish laureate's quasicrystal
* Facetiously sympathetic open letter to Wall Street's 1%
* We Are The 1% sign in Chicago Mercantile Exchange window
* US Senate vote establishes new interpretation of cloture
* Eighteen photographs of indigenous Sami by Erika Larsen

October 6, 2011
* President explains lack of prosecutions on Wall Street
* Fox undermines Malkin assertion of 99% white occupation
* Hank Williams Jr apologizes for Hitler-Obama comparison
* Birther site World Net Daily to publish Abramoff memoir
* Steve Jobs: LSD one of the most important things I did

October 5, 2011
* Autism traits prove valuable for software testing

October 4, 2011
* Guide from the Occupy Wall Street General Assembly